Frog Pendant & Brooch

Brazilian crystal opal: 43.88 carats.
Emeralds: total weight .20 carats.
Set in 18k yellow and green and 24k gold: total gold weight 21 grams.
Dimensions: 1.5 inches high by 1.88 inches wide by .88 inches deep.
Frog Pendant & Brooch created & © by Judy Wallace
SOLD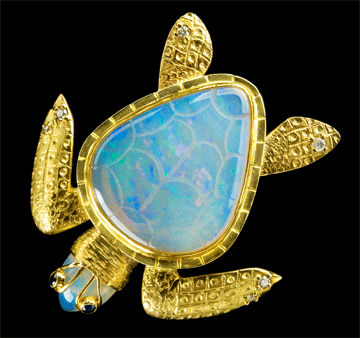 Turtle Enhancer

Brazilian crystal opal: 43.0 carats total weight (shell 36.2 carats).
Sapphires: total weight .10 carats
Diamonds: total weight; .19 carats
Set in 18k yellow and green and 24k gold: total gold weight 36.2 grams.
Dimensions: 2.5 inches high by 2 inches wide by .5 inches deep.
Turtle Enhancer created & © by Judy Wallace
$7,500.00

To purchase our sale items please request an invoice: wallgold@verizon.net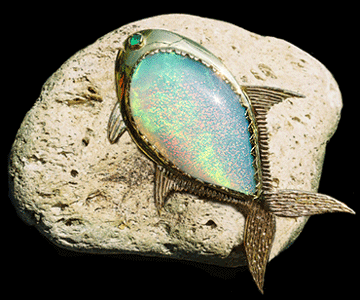 Pompano Pendant and Brooch

Brazilian crystal opal: 38.2 carats.
Emerald: weight: .07 carats.
Set in 18k red, green and yellow gold: total gold weight 15.26 grams.
Dimensions: 1.63 inches high by 2.38 inches wide by .75 inches deep.
Pompano Pendant & Brooch created & © by Judy Wallace
SOLD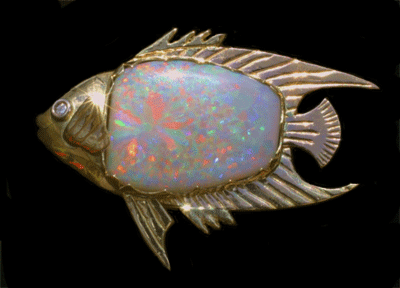 Snowflake Queen Angelfish Brooch

18 k red & yellow gold
Australian opal weight: 8.44 carats
diamond weight: .02 carats
total gold weight: 6.3 grams
dimensions: 1.5 inches high by 1.625 inches wide by .33 inches deep
Created & © by Judy Wallace
$3,250.00


To purchase our sale items please request an invoice: wallgold@verizon.net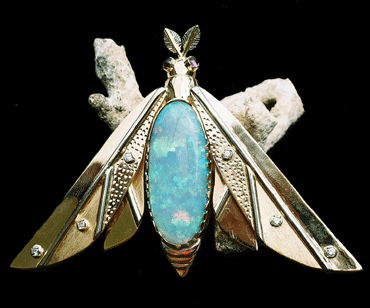 Moth Enhancer

Brazilian crystal opal: 25.0 carats.
Diamonds: total weight; .20 carats
Amethyst: total weight; .31 carats
Set in 18k yellow and white gold: total gold weight 30.8 grams.
Dimensions: 2.5 inches high by 3.5 inches wide by .5 inches deep.
Moth Enhancer created & © by Judy Wallace
SOLD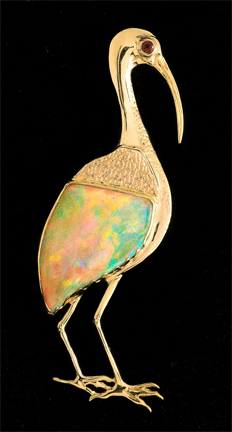 Ibis Enhancer

Australian broad flash opal: 8.02 carats.
Ruby: .10 carats.
Set in 18k yellow and red gold: total gold weight 10.04 grams.
Dimensions: 1.63 inches high by .88 inches wide by .38 inches deep.
Ibis Enhancer created & © by Judy Wallace
SOLD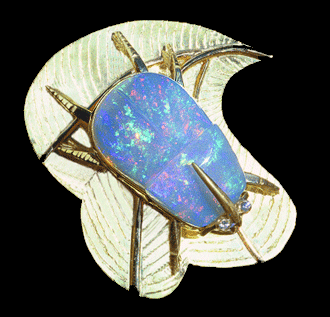 Rhinoceros Beetle Enhancer

Brazilian Crystal opal: 64.0 carats.
Diamonds: total weight: .10 carats.
Set in 18k yellow and green gold: total gold weight 38.35 grams.
Dimensions: 2.12 inches tall by 2.25 inches wide by 1.43 inches deep.
Rhinoceros Beetle Enhancer created & © by Judy Wallace
$13,500.00


To purchase our sale items please request an invoice: wallgold@verizon.net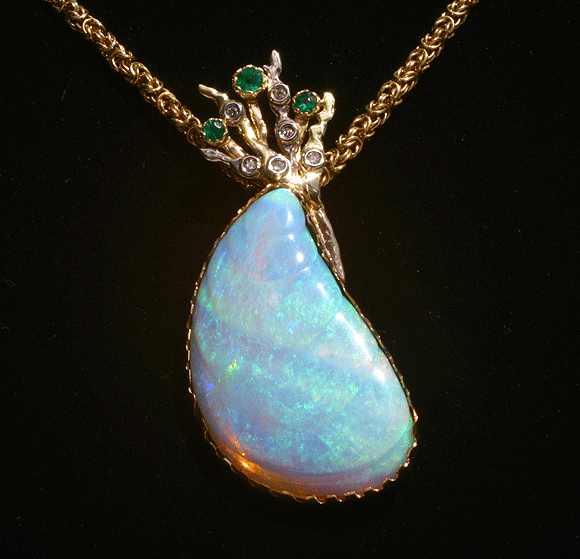 Mussel Shell Enhancer

Brazilian Crystal Opal: 45.4 carats.
Diamonds total weight: .09 carats
Emeralds total weight: .26 carats
Set in 18k yellow, green and white gold:
total gold weight: 12.9 grams.
Dimensions 2.25 inches high by .875 inches wide
by .625 inches deep
Created & © by Judy Wallace
$11,000.00


To purchase our sale items please request an invoice: wallgold@verizon.net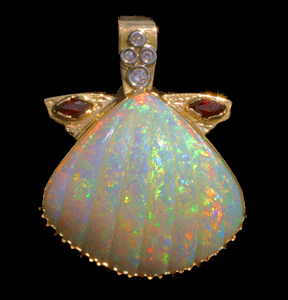 Scallop Shell Enhancer

18k yellow gold
Australian opal: 29.7 carats
rubies total weight: .37 carats
total gold weight: 5.85 grams
dimensions: 1.25 inches wide by 1.5 inches high by .5 inches deep
Scallop Shell created & © by Judy Wallace
SOLD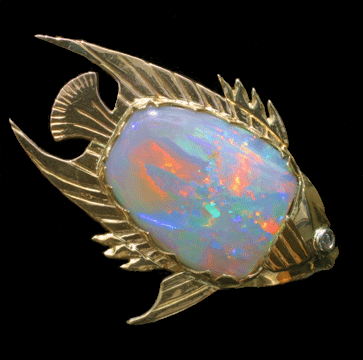 Broad flash Queen Angelfish Pendant

18k red & yellow gold
Australian opal weight: 7.91 ct.
diamond weight: .02 carats
gold total weight: 6.3 grams
dimensions: 1.25 inches high by 1.5 inches wide by .33 inches deep
Broad flash Queen Angelfish created & © by Judy Wallace
$5,000.00


To purchase our sale items please request an invoice: wallgold@verizon.net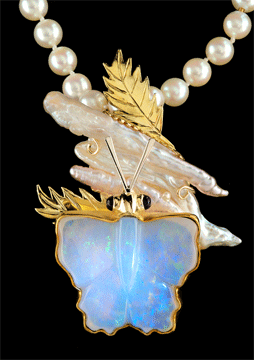 Opal Butterfly Enhancer

18k yellow & green gold
Brazilian crystal opal: 55.80 carats
biwa freshwater pearl: 22.33 carats
amethyst total weight: .38 carats
gold total weight: 21 grams
dimensions: 2.0 inches wide by 2.5 inches high by .75 inches deep
Opal Butterfly created & © by Judy Wallace
$ 7,500.00


To purchase our sale items please request an invoice: wallgold@verizon.net


Please Note that all items are ONE OF A KIND pieces.
They are sold on a 'First Come' 'First Serve' basis.
Thank you for shopping with us!


From our Opal Natural Wonder collection both the Moth Enhancer & The Frog Pendant & Brooch can be seen in "Gems and Gemology Magazine" Spring 2007.

Please visit again soon as we will be adding more fine gold and precious stone jewelry.

Opal Natural Wonder Collection
From Wallace Goldsmithing
Back in the early 1970's, Michael & Judy Wallace, of Wallace Goldsmithing, bought a number of parcels of fine crystal opal from the recently discovered deposits around Pedro Segundo in Brazil. This material seems just a bit harder than most other opals, as well as being exceptionally stable. The stability may be due to its lower water content - according to Jules Roger Sauer in Brazil Paradise of Gemstones this material has a water content of 5.7 as opposed to material from other sources with a water content closer to 10%.

Wallace Goldsmithing bought several thousand carats of the material (along with some select parcels of Australian opal). Most of it was cut into cabochons and either set or sold wholesale. However, some of the largest specimens were saved for future projects.

Over the next few years, Michael carved a few of those pieces into perfume bottles or miniature sculptures, but most of them remained in the safe - particularly after Michael semi-retired from making jewelry in 1988.

Finally, a couple of years ago, Judy brought these exceptional specimens out of the safe, and began studying them. Now the results are available - Judy's collection of natural wonders - creatures of the sub-tropics in 18 carat gold and opal - each one lovingly hand crafted and totally unique. We hope you enjoy this very special selection of one-of-a-kind sculptures to wear.


Home Natural Wonder Collection Fine Jewelry Objects D' Art Crystal Jewelry About the Artist Contact WG Sold Jewelry